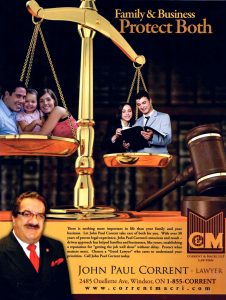 Everyone should have a Will to protect loved ones. With every Will there must be a suitable estate plan whether you have a small estate or a large estate. If you own a business, terms of succession must be clearly structured to maximize tax savings and ease of transfer.
There is no greater comfort than knowing that your affairs have been taken care of the way you want them backed by sound and sensible legal advice, and proven expertise.
Call JP for a full range of legal services including the preparation of Wills, Powers of Attorney, Estate Planning, and the administration of Estates.
Initial consultations are free.


CLICK HERE TO READ HOW JOHN CORRENT'S CLIENTS HAVE BEEN HELPED – TESTIMONIALS.